WINE…
A STORY…
ENCOUNTERS
Follow the milestones of Epicura, and of Som'one, the club behind the adventure. Above all, share in Benjamin Roffet's preparations for the competition for Best Sommelier in the World!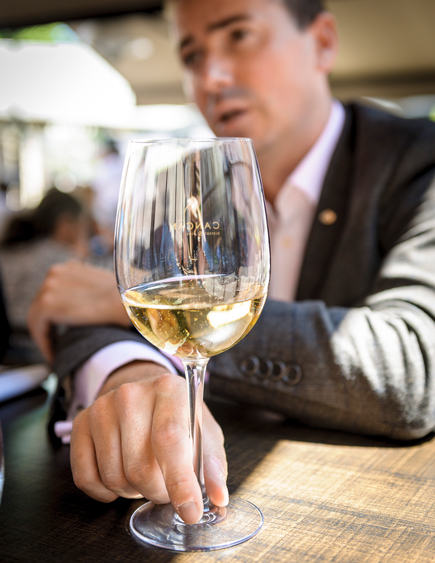 SHARE HIS PASSION
Target 2016 :
Best Sommelier in the World
What is that can push these professionals to commit to the race for national and international titles? Though the motivation is undoubtedly different for each candidate, Benjamin Roffet lays claim to a personal determination that complements his professional career.
"This type of challenge enables me to move forward and to challenge myself. Having my nose stuck in books, learning, discovering new vineyards: all of this helps to expand my abilities and my CV, but also the wine menu of the restaurant I work at."
The preparation for this competition follows a logical order: studying the soil, the grapes, and then the wine:
the maps of regions, varietals, geology, viticulture techniques;
traveling to the vineyards to discover, understand, talk about vintages…
decanting, tasting techniques …
and, of course, practicing English.
The theory section is heavy going. His efforts intensify as the deadline approaches. From September 2014, Benjamin will revise 4 hours a day, followed by 6 hours a day in the first half of 2015 and 8 hours a day over the final months before the competition.
Share his passion, support Benjamin
Benjamin's commitment to preparing for this contest is personal. His travels, the theory work, the time spent receive no financial backing. That is why Som'one is inviting you to support his project.
Som'one, a platform for exchange, sharing and discovery, will also enable you to participate in the adventure of Benjamin Roffet. Through this club, you will experience live, step by step, his progress in the competition.
To take part, contact us here.