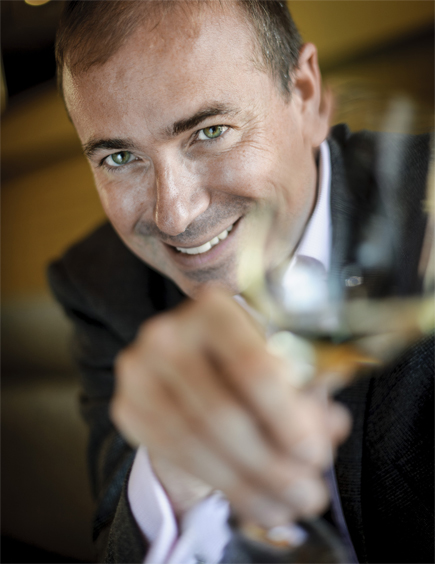 BENJAMIN ROFFET
Best Sommelier
& Best Craftsman in France
If the art of the profession is to match dishes and wines, the profession of the sommelier requires a comprehensive and thorough knowledge of wine. Benjamin Roffet is one of those passionate professionals who is both curious and a gourmet.
To explain his journey, Benjamin says simply that "one thing led to another". He also speaks of a "logical progression" with the firm conviction that "eating well and drinking well" are part of his culture, since every French person, from a very young age, is brought up amongst this culinary wealth.
Hailing from Corrèze, from a farming family that remains close to the land and close to production, he rediscovered this authenticity in wine.
Having completed his high school studies in general science, followed by a catering and sommelier diploma, specializing in wine, the young sommelier studies the diversity of French wines, as well as foreign wines.
"The profession of sommelier is usually connected to leading establishments with numerous stars, which takes us to capital cities."
Pursuing a profession in hotel catering demands learning English, and to achieve this the ideal method is to immerse yourself in the country.
"One thing led to another", and his wish to travel took him to England, where he plied his trade in the restaurant of a French chef, Raymond Blanc: the Quat'Saisons. Following a period at a Relais and Château in Ireland, Benjamin returned to England to spend the longest period of his professional life so far at the side of Gordon Ramsay, firstly at Claridge's, then at Royal Hospital Road.
"In the discovery of wines, the playing field is fabulous."
Benjamin's real passion is the continual discovery of new vineyards, and the research that goes into this approach to wine: one that requires a curious palate and plenty of humility. In order to build up a wine list for a restaurant, this approach is fundamental. This is a quest that has led him to countries, regions, and vineyards where he meets and talks with winemakers, and tastes their wine.
He equally enjoys his role with clients in the dining room. The sommelier maintains a special relationship with them. It is essential to approach them with a great deal of attention, and even psychology; knowing when to step aside, or assert oneself according to their desires and expectations. It is a way to share his knowledge, to educate the palate, and to make suggestions in order to make a delicious meal even more pleasant.
Having completed a stint as head sommelier at the Trianon Palace, Versailles, Benjamin has now set himself new challenges. He is heading up the team at the Hexagone, the new restaurant of the multi-starred chef Mathieu Pacaud. In this new setting, he is seeking a balance between his thirst for discovery and his desire to continue coming across an unknown wine first-hand. At bottom, the ultimate goal of this profession is to always go beyond what is already known.
National and international competitions are another way to challenge himself and to move forward.
Learn more about Benjamin Roffet